After living in the Bay Area for 10 years, and experiencing a disproportionate amount of peer pressure to dress up for this holiday — in San Francisco, Halloween is to costume stores what Christmas is to, uh, all other retail stores (great analogy, I know) — I've been over dressing up for quite some time. I love when other people do it, and I'll be the first to commend a clever costume, but I just don't have it in me anymore.
Enter amazingly-timed first viewing of Bojack Horseman. In the weeks leading up to that semi-dreaded last day of October, I tried out this excellent show and not only loved it, but also found my forever costume. Diane Nguyen, the ghostwriter hired to help Bojack write his memoir, also happens to be my sartorial (and spiritual) two-dimensional doppelganger.
I, too, have (1) glasses, (2) shoulder-length dark hair, (3) a green jacket and (4) a last name that's very common in Asia. She just gets me.
But enough about us. Bojack is great, and I'm not the first person to tell you that. I'm also pretty over stories about Hollywood up-and-comers, has-beens, currently-ares, you name it. TV and film can get pretty self-congratulatory when they're not kept in check. But this show's phenomenal cast — Will Arnett as Bojack, Alison Brie as Diane, Paul F. Tompkins as Mr. Peanut Butter, Aaron Paul as Todd and Amy Sedaris as Princess Carolyn — and straight-up hilariously weird visual jokes put it so far ahead of any other show or movie that might share a similar premise.
Bojack is a washed-up star trying to figure his shit out. He's got an agent (Carolyn), a roommate (Todd) and a nemesis (Mr. PB). That stuff's all pretty standard. But the brilliance — and again, no news here — is that he's a horse. Carolyn is a cat. Mr. PB is a dog. And any number of other beings everyone interacts with in this alt-Hollywood are also animals. It's the best, and it enhances every single scene with something subtle, unexpected and hysterical.
I recall one scene in which Bojack was hitting on some girls at a bar. Two human, one chicken. In a moment of surprise, the chicken drops an egg, and I lost my shit.
And another, in which Carolyn is at the gym, running on the treadmill next to a sloth, who is not.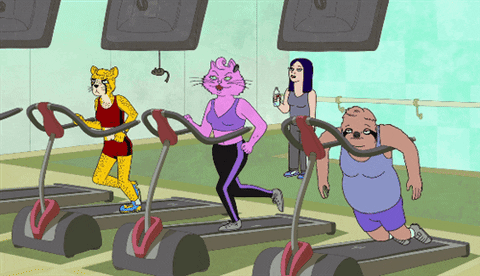 Equally brilliant is how the animal qualities are ignored completely in other scenes. This one in particular made me laugh, mostly because I was imagining the conversation creator Raphael Bob-Waksberg must have had with Wallace Shawn to get him to do the bit.
I also love the pace, exemplified above. Carolyn and Diane are sharp as hell, whereas all the men are at various points on the nincompoop spectrum. Bojack's self-loathing, Mr. PB's completely shameless and Todd's wholly lazy. It makes for very empowering conversations, at least from the female side of things. And the patter feels so snappily human, which is a credit to the actors. If they were playing apples and pears, you'd still have no doubt they were sentient.
Arnett, especially, found a winner here. He's not that easy to cast — Arrested Development's Gob is by far the best role he'll ever get, and I think he knows it, and I mean that as much of a compliment as it can be — because he's not incredibly believable as a guy who can garner sympathy. Bojack, then, is probably the second-best thing he's ever done. He plays another cocky man, but that's where the similarities end. The washed-up aspect of Bojack is so nuanced and tragic, and Arnett somehow digs into that, despite Bojack being almost completely unlikable on paper.
I want to know what else B-W has up his sleeve. This seems to be his first major project, so we should be in for an entertaining as hell career. Or, at the very least, a shit-ton more Bojack, which would be just fine.